Embedding Time-Critical Scheduling In Drug Production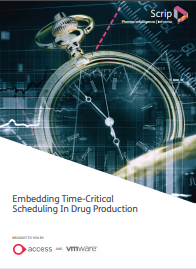 Drug manufacturing is a multifaceted undertaking in which numerous parallel processes, activities and resources must be marshaled and reconciled within a high-pressure environment where human errors inevitably occur. Using the best technology infrastructure and software to deal with complex manufacturing requirements can reduce errors and significantly drive up efficiencies.
Download this whitepaper now to access three key case studies:
Streamlined Manufacturing Planning Resulting In:

Reduced team planning time from 21 hours to 1 hour per day
Increased production-planning horizon from 1 week to 4 weeks

Maximized Production Efficiency

Reduced Work in Progress
Cut Lead Time
Reduced Wastage

Pandemic Planning to:

Design-capacity study to deliver 150m doses in 6 months
Manufacturing complexity.
Software and infrastructure.
Hosted solutions.
And more.
Sponsored By:


Complete the form to download your whitepaper: