Achieving Launch Excellence In The Challenging Healthcare Markets Of Today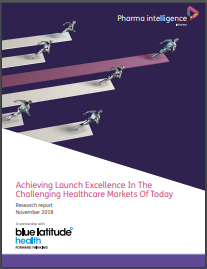 As 2018 draws to a close, it's clear the pharma landscape is becoming more competitive than ever before. At the same time, healthcare markets are becoming more complex. Central to this is a growing ecosystem of stakeholders with different needs, challenges and pain points. As a result, planning a launch is more difficult and more complicated. The bar has been raised for launch success and launch excellence is now more critical than ever.
Blue Latitude Health and Informa's Pharma Intelligence have produced a guide to launch excellence for modern healthcare. Download now and discover how you can achieve launch excellence in the challenging healthcare markets of today.
Sponsored By:

Submit the form below to download